Secondary Suites - Surrey
All secondary suites in the city of Surrey must be registered....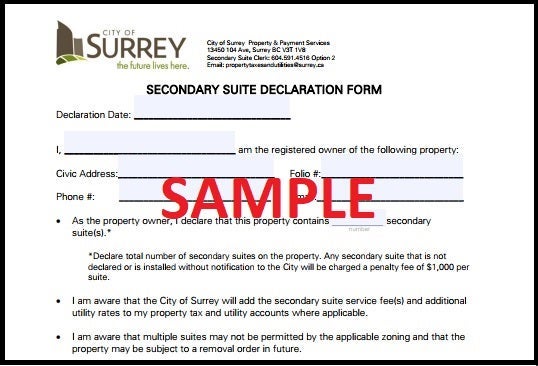 A secondary suite is defined as a second dwelling unit (self-contained living quarters including cooking facilities and a washroom), located within the building of an single family owner-occupied dwelling)

To register, Fill out the complete the
Secondary Suite Declaration Form here
 and submit the signed form to Property & Payment Services by dropping in person at Surrey City Hall or emailing the form as an attachment to propertytaxesandutilities@surrey.ca, or by postal mail.
One secondary suite is permitted in conjunction with a single family dwelling in each zone in the Zoning Bylaw that permits a single family dwelling as a permitted use. 
Learn where and how you can build, install or
how to apply for a Seconday Suite
Benefits of having a Legal Secondary Suite
There are many benefits of building and maintaining a legal Secondary Suite in your single family home. Secondary Suites support the City's affordable housing goals by providing ground‐oriented rental housing for a range of tenants. For homeowners, legal Secondary Suites also:
act as a mortgage helper, making home ownership more affordable.

may increase the market value of your house

typically provide a higher rental income than illegal suites

allow you to purchase insurance, unlike illegal suites

provide more safety and security of the house and suite than illegal suites.

Unauthorized suites may be a source of tension between neighbors and may not offer safe accommodation or security of tenure for tenants, or security of rental income for homeowners who are dependent on this income for mortgage payments.

If you'd like to know the value of your Surrey home with a secondary suite and would like a free market evaluation, fill in the
FREE MARKET EVALUATION FORM
 and one of our friendly Agents will get back to you soon!
Author Contributor Bio:
Donna Fuller is a full time dedicated REALTOR/Managing Broker with Coldwell Banker Universe Realty. Licensed REALTOR in the industry & in the province of BC since 1987.

Share
Categories
Archives

Subscribe To This Blog